The Point San Pedro Road Coalition is an organization of homeowner associations and residents that make up the Pt. San Pedro Road corridor in east San Rafael, California. For more information on the Coalition, see the About Us menu above.
Current News & Events
(See "News by Topic" for more posts on a specific topic)
Below is an announcement from the Dutra Group regarding the San Rafael Rock Quarry's annual community meeting update on Saturday, October 7, 10am - 1pm. An RSVP is requested by September 22.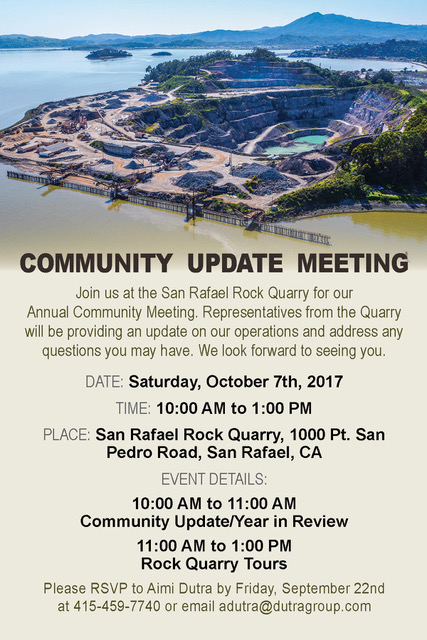 [Read more...]
The Coalition meets monthly with the City of San Rafael along with two other umbrella groups (Federation of San Rafael Neighborhoods and Coalition of North San Rafael) to discuss activities, concerns and/or issues that are not readily addressed directly with the appropriate City agencies or where there is concern about the City's approach. ...
[Read more...]
On Monday August 21, 2017, the Coalition's Marina Committee met with the S.R. Community Development Department (CDD) and S.R. Dept. of Public Works (DPW) for our regular monthly review of the developments at The Village at Loch Lomond Marina (aka "The Strand"). The Bay Conservation and Development Commission (BCDC) also participated by ...
[Read more...]
The original notice for September 30 was cancelled and the meeting postponed. Put this new date on your calendar. Come to our popular annual presentation from officials and community leaders on subjects of great interest to our residents. This is an opportunity to catch up on issues and ask questions. ...
[Read more...]
This from the S.R. Dept. of Public Works: Construction at the intersection of Second Street and Grand Avenue is due to begin in the next two weeks. The City has retained Northern Pacific Corporation as the prime contractor to complete the following work: curb ramp installation on all four corners, ...
[Read more...]
The Coalition is a 501(c)(3) tax-exempt, nonprofit organization. Your contributions are tax-deductible to the extent permitted by law. Please consider supporting us with a donation and see if your company offers matching grants.